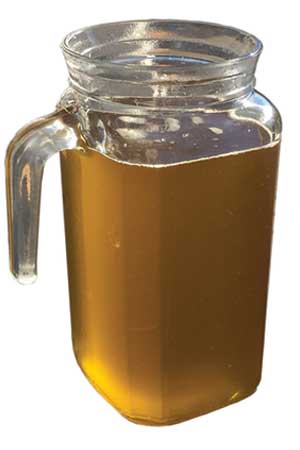 A highly palatable blend of premium quality Vegetable Oils, providing horses with a calorie-dense supplement, and the important Fatty Acids, Omega 6, 9 and Omega 3.
Great for hard working horses and poor doers to increase the calorie density of the ration
Ideal for yearling preparation and show horses to enhance skin and coat condition
A 'cool' energy source
A valuable addition to the ration for horses prone to 'tying –up'
Find a Stockist
The Omega 6 & 9 Fatty Acids are known for their activity in enhancing skin and coat condition.

Omega 3, the heart Fatty Acid, plays an important role in cell integrity, enhancement of the natural immune system, and provides an anti-inflammatory effect.

Rice Bran Oil is also a component of Dunstan Trifecta Oil, adding to the Omega 6 profile, but more specifically for the contribution of Gamma Oryzanol which has a positive role in weight gain and muscle development.

Dunstan Trifecta Oil provides a 'cool' energy source to the ration of grain-sensitive horses, allowing a portion of grain to be replaced by this 'cool' calorie source.

Horse prone to 'tying-up' will benefit from replacing a portion of the grain in the daily ration with Dunstan Trifecta Oil.

For poor doers or hardworking horses when high intakes of supplementary feed are already being provided, adding some Dunstan Trifecta Oil to the daily feed will result in an increase in calorie contribution without the horse having to consume more feed.

Dunstan Trifecta Oil contains a natural antioxidant based on an extract of Rosemary and Vitamin E to optimize shelf life and product stability.
Rice Bran Oil, Soya Oil and Flax Seed Oil.

Typical Analysis

| | |
| --- | --- |
| Oil | 99% |
| Energy | 37 MJ/KG |
| Saturated | 12.0% |
| Monounsaturated | 22.0% |
| Polyunsaturated | 65.0% |
| Omega 6 Linoleic | 42% |
| Omega 9 Oleic | 22% |
| Omega 3 Linolenic | 22.0% |

Contains a natural anti-oxidant

The recommended feeding rates are based on a 500kg horse and are guidelines only




Horses in Work

Add to the Racehorse diet at 25 - 30 ml per horse per day, building up to 100 – 250ml over a period of 14 days.



Yearling Prep

Introduce to the Yearling diet at 25 ml per horse per day during Yearling Prep, building up to 50-100ml over a period of 14 days to enhance skin condition and coat sheen.

Dunstan Horsefeeds are best used within four months from the time of purchase.
This ensures the vitamins included in Dunstan Horsefeeds remains efficacious to ensure optimum equine health.
However, as is the case with human foods, "fresh is best". So always aim to feed Dunstan products as fresh as you are able.

A Hint on Storage of Dunstan Horsefeeds:
When storing Dunstan Horsefeeds, it is important that it is kept in a clean, dry, cool and rodent-proof area to avoid potential moulds and/or contaminants.
Coming Soon!