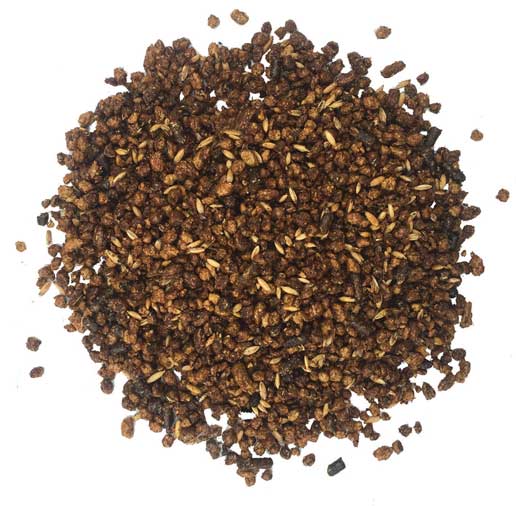 Dunstan Yearling Mix is formulated specifically for Yearlings and is the ideal complete feed for Yearling Sales Preparation.
Extruded grains for improved digestibility
Vegetable oil for skin and coat quality
Fully balanced
Utilises Organic Minerals and Natural Vitamin E
Find a Stockist
Dunstan Yearling Mix is formulated to meet the nutrient requirements of the growing Yearling in a palatable, complete feed.

Fully balanced, Dunstan Yearling Mix provides a complete profile of macro and micro ingredients in a palatable complete feed to supplement forage intake.

The diet is formulated around an extruded pellet to match the nutrient requirements of the growing Yearling from twelve months of age. The diet is of a high nutrient specification utilising Dunstan's extrusion technology for processing cereals.

As the ideal complete feed for Sales Preparation, additional Vegetable Oils are included within this feed to aid coat sheen and general appearance.

Ingredients are selected for their digestibility and nutrient availability, to achieve desired growth rates while providing key nutrients for sound bone and joint development.
 

Equine Safe

Dunstan Horsefeeds are produced in Equine-Safe manufacturing plants, ensuring a product of premium quality, safety and performance.

Professionally formulated for New Zealand Horses performing under New Zealand conditions.
Maize, Oats, Barley, Bran and Pollard, Extracted Soya Meal, Fibre Pellet, Soya Bean Oil, Molasses, Dicalcium Phosphate, Limestone, Methionine, Lysine, Salt, Mineral and Vitamin Premix, Threonine, Sucram Flavouring.

Typical Analysis (dry matter basis)

| | |
| --- | --- |
| Crude Protein | 15% |
| Fibre | 6.5% |
| Fat | 10.0% |
| Salt | 1.5% |
| DE Energy | 15.0 MJ/KG |

Nutritional Composition - per kilo of Dunstan Yearling Mix (as fed)

| | |
| --- | --- |
| Crude Protein | 130g minimum |
| Calcium | 9.5g |
| Phosphorus | 6.0g |
| Sodium | 5.0g |
| Chloride | 8.0g |
| Potassium | 10.0g |
| Magnesium | 2.5g |
| Iron | 220mg |
| Zinc (Organic) | 135mg |
| Manganese | 110mg |
| Copper (Organic) | 50mg |
| Cobalt | 0.5mg |
| Iodine | 1.0mg |
| Selenium (Organic) | 0.5mg |
| Vitamin A | 10,000i.u |
| Vitamin D | 1,000i.u |
| Vitamin E | 125mg |
| Vitamin K | 2.0mg |
| Thiamine B1 | 6.0mg |
| Riboflavin B2 | 6.0mg |
| Pyridoxine B6 | 5.0mg |
| Vitamin B12 | 50ug |
| Niacin | 20mg |
| Pantothenate | 10mg |
| Biotin | 100ug |
| Folic Acid | 1.5mg |
| Choline | 150mg |

Heat stable Vitamins added at the time of manufacture

Dunstan Yearling Mix is a full feed and therefore is formulated to be fed at a minimum of 2.5kg daily to provide adequate vitamin and mineral supplementation (based on a 500 kg mature body weight).

If the Yearling's body condition does not require an intake of 2.5kg or greater of Dunstan Yearling Mix then a 'semi concentrate' - Dunstan Grass Balancer -is recommended, to ensure adequate vitamin and mineral fortification of the diet.

Amounts per horse per day when offered as the full feed:

| | |
| --- | --- |
| Yearlings | 2.5kg – 4kg |
| Sales Preparation | 4kg - 6kg |

The recommended feeding rates for Dunstan Yearling Mix are based on a mature weight of 500kg and are guidelines only. Daily feed amounts will vary depending on pasture availability and body condition. Horses are very much individuals with different metabolic efficiencies, some require a little more, others a little less, for the same level of activity.
 
Ensure adequate fibre intakes by providing 1 % - 1 .5% per day of the horse's body weight as chaff, hay, Dunstan Betabeet/Sugarbeet or pasture (on a Dry Matter basis).
 
It is advisable to split the daily hard feed into at least two feeds, preferably 3-4, but feed no more than 2.0 kg of Dunstan Yearling Mix per meal.
 
Always introduce a new feed gradually over a period of 7 – 10 days, working up to the desired feed intake taking into consideration body condition and work level.




General Notes

Always ensure the Horse has access to clean drinking water.

High Copper levels in Dunstan Yearling Mix make it unsuitable for feeding to sheep.

Dunstan Horsefeeds are best used within four months from the time of purchase.
This ensures the vitamins included in Dunstan Horsefeeds remains efficacious to ensure optimum equine health.
However, as is the case with human foods, "fresh is best". So always aim to feed Dunstan products as fresh as you are able.

A Hint on Storage of Dunstan Horsefeeds:
When storing Dunstan Horsefeeds, it is important that it is kept in a clean, dry, cool and rodent-proof area to avoid potential moulds and/or contaminants.