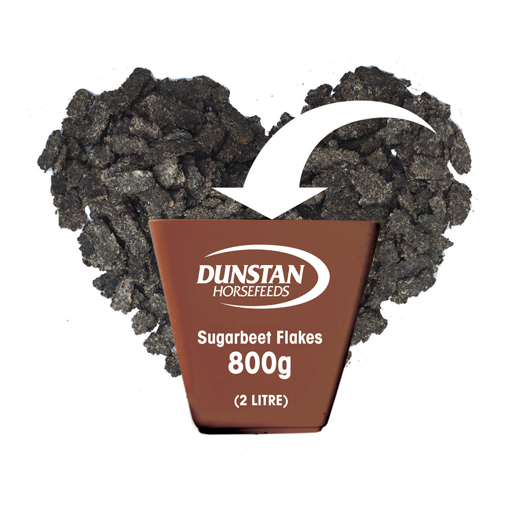 A lightly molassed, highly palatable, calorie dense, 'super fibre' for horses.
A 'super fibre', more calorie dense than traditional fibre sources
Highly palatable
'cool' energy source
Assists in maintaining hindgut health
High in calcium
Utilised as a partial forage replacer
Find a Stockist
Dunstan Sugarbeet Flakes is a natural feed, produced during extraction of sugar from the root crop sugarbeet, Dunstan Sugarbeet Flakes includes added molasses.

Dunstan Sugarbeet Flakes is high in digestible fibre, which under bacterial digestion in the horse's hindgut slowly releases energy, providing a good energy source, whilst keeping the digestive tract in good condition.

Dunstan Sugarbeet Flakes is high in Calcium. Making it the ideal complement to Oats and Bran, helping to balance the diet.

Dunstan Sugarbeet Flakes with the added Molasses is very palatable tempting even the fussiest eaters.

As a soaked supplement, Dunstan Sugarbeet Flakes is a valuable addition to the ration for a horse when travelling and away to assist in hydration.

Due to its moist nature at feeding and lack of dust, Dunstan Sugarbeet Flakes is suitable for horses that suffer from respiratory conditions.
Natural sugarbeet pulp dried, micronised and flaked for faster soaking with added molasses.

Typical Analysis (dry matter basis)

| | |
| --- | --- |
| Protein | 10.0% |
| Fibre | 14.0% |
| Sugars | 20% |
| Calcium | 0.9% |
| Phosphorus | 0.07% |
| DE MJ/kg | 12.5/td> |

Below is a guide for recommended intakes of Dunstan Sugarbeet Flakes, these are a guide only as intakes will vary depending on body condition and pasture availability.

Horses require a bare minimum of 1% of their body weight in hay, chaff or pasture daily on a dry matter basis. Dunstan Sugarbeet Flakes is a quality fibre source can be used as a fibre replacement when pasture may be limited, therefore greater intakes will be required.

NOTE: Always ensure Dunstan Sugarbeet Flakes is fully soaked prior to feeding.
Easy to use. The only preparation required is the soaking of Dunstan Sugarbeet in 5 parts water to 1 part Dunstan Sugarbeet (for example 200 grams of dry Dunstan Sugarbeet requires 1 Litre of water to soak). Dunstan Sugarbeet is fully soaked in 30mins. Warm water ensures faster soaking.

| | | |
| --- | --- | --- |
| Height In Hands | Body Weight (Kg) | Dry weight of Dunstan Sugarbeet Flakes per Day (Kg) |
| 11 | 120 - 260 | 0.2 - 0.5 |
| 12 | 260 - 290 | 0.2 - 0.8 |
| 13 | 290 - 350 | 0.2 - 1.3 |
| 14/15 | 350 - 520 | 0.5 - 2.0 |
| 16/17 | 520 - 725 | 1.0 - 3.0 |

Always ensure the Horse has access to clean drinking water.
Always ensure Dunstan Sugarbeet Flakes are soaked prior to feeding
Cold water soaking - ready in 30 minutes / Hot water soaking - ready in 20 minutes
Easy to use - the only preparation required is to soak Dunstan Sugarbeet Flakes in water
Allow 30 minutes for complete soaking
Hot water will speed soaking time



Dunstan Horsefeeds are best used within four months from the time of purchase.
This ensures the vitamins included in Dunstan Horsefeeds remains efficacious to ensure optimum equine health.
However, as is the case with human foods, "fresh is best". So always aim to feed Dunstan products as fresh as you are able.

A Hint on Storage of Dunstan Horsefeeds:
When storing Dunstan Horsefeeds, it is important that it is kept in a clean, dry, cool and rodent-proof area to avoid potential moulds and/or contaminants.