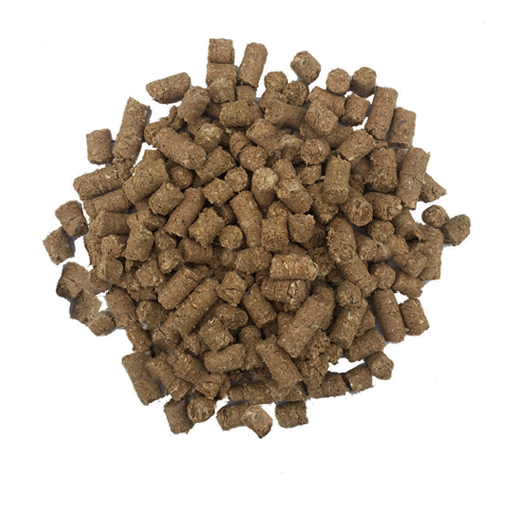 A Vitamin and Mineral concentrate pellet for the late pregnant Mare
Low intake

Organic minerals

Amino acids

Chromium

Live yeast

Mannan-oligosaccharide
Find a Stockist
Dunstan Mare Mineral pellets are a palatable vitamin and mineral concentrate pellet for the pregnant mare in the last trimester of her pregnancy.

As a concentrated source of key nutrients, it is ideal for the Mare which is maintaining body condition primarily on pasture and hay alone and does not require the calories of a full feed.

During the last three months of a Mare's pregnancy, research suggests that feeding elevated levels of trace minerals, particularly Copper and Zinc, assists in the transfer of these important minerals to the developing foal. Ensuring good intakes of these trace elements helps to contribute to ensuring the birth of a Foal with minimised bone and joint disorders.

Minerals in Dunstan Mare Mineral Pellet are in their Organic form including Selenium from Selenium Yeast, and therefore are safer and more bio-available to the horse, for optimum utilisation. A combination of elevated levels of Selenium and Vitamin E in the last trimester of the mare's pregnancy will enhance immunity in both the Mare and Foal.

The addition of Chromium to assist in maintaining a more stable blood glucose will have benefits for cartilage development in the subsequent foal, due to a reducing fluctuation of blood glucose.

The addition of a live yeast aids digestion and will assist in maintaining a more optimal hindgut pH.

The inclusion of Mannan-Oligosaccharide (Agrimos) contributes to digestive health due to its ability to bind mycotoxins.

Quality protein ingredients are used to ensure good amino acid status which is of key importance to all breeding horses.



Equine Safe

Dunstan Horsefeeds are produced in Equine-Safe manufacturing plants, ensuring a product of premium quality, safety and performance.

Professionally formulated for New Zealand Horses performing under New Zealand conditions
Barley, Wheat By-Product, Soyabean Meal, Full Fat Canola, Limestone, Dicalcium Phosphate, Molasses, Salt, Organic Glycinate Trace Minerals, Selenium Yeast, Live Yeast, Chromium, Amino Acids, Vitamins, Agrimos.

Typical Analysis (dry matter basis)

| | |
| --- | --- |
| Crude Protein | 12 % |
| Fat | 5.0 % |
| Fibre | 6.0 % |
| Salt | 1.5 % |
| Energy DE | 12.5 MJ/Kg |

Nutrient Composition – typical analysis per kilo of Dunstan Mare Mineral Pellets (as fed)

| | |
| --- | --- |
| Calcium | 20g |
| Phosphorus | 10g |
| Iron | 100mg |
| Zinc (Organic) | 640mg |
| Manganese | 100mg |
| Copper (Organic) | 320mg |
| Cobalt | 2.0mg |
| Iodine | 2.0mg |
| Selenium (Organic) | 3.0mg |
| Vitamin A | 40,000i.u |
| Vitamin D | 3,000i.u |
| Vitamin E | 500i.u |

Heat stable Vitamins added at the time of manufacture

Feed 1kg of Dunstan Mare Mineral Pellets per day for a Mare in her last trimester of pregnancy when no other mineralised feed is being fed.

The recommended feeding rates for Dunstan Mare Mineral Pellets is based on a 500kg horse.

Do not treat Dunstan Mare Mineral Pellets as a 'full feed' as it is a concentrate with elevated levels of minerals well in excess of a conventional equine feed.

Ensure adequate fibre intakes by providing 1%-1 .5% per day of the horse's body weight as chaff, hay, Dunstan Betabeet/Sugarbeet or pasture (on a Dry Matter basis).






General Notes

Always ensure the Horse has access to clean drinking water.

High Copper levels in Dunstan Mare Mineral Pellets make it unsuitable for feeding to sheep.

Dunstan Horsefeeds are best used within four months from the time of purchase.
This ensures the vitamins included in Dunstan Horsefeeds remains efficacious to ensure optimum equine health.
However, as is the case with human foods, "fresh is best". So always aim to feed Dunstan products as fresh as you are able.

A Hint on Storage of Dunstan Horsefeeds:
When storing Dunstan Horsefeeds, it is important that it is kept in a clean, dry, cool and rodent-proof area to avoid potential moulds and/or contaminants.