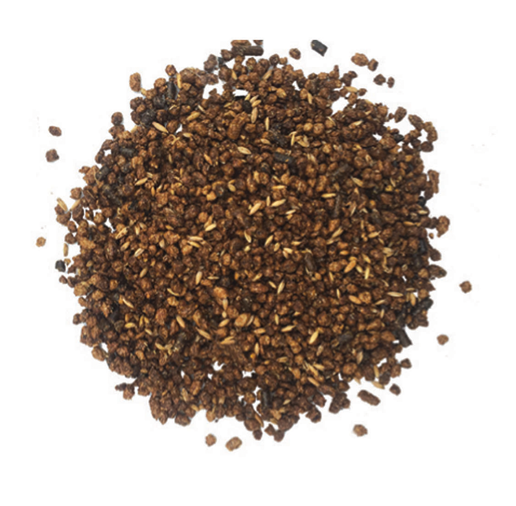 Dunstan Grass Balancer is a lightly molassed, semi-concentrate for young growing horses.
Semi concentrate
Extruded cereals
Quality protein
Amino acids
Organic minerals
Selenium yeast
Natural vitamin E
Find a Stockist
Dunstan Grass Balancer is a semi- concentrate. This makes it ideal for the young growing horse who does not require the recommended intakes of a 'full feed' i.e. when there are signs of Developmental Orthopaedic Disease (DOD) type conditions or where excessive growth rates through high pasture quality and availability are anticipated. In these situations feeding a 'full feed' at the recommended intakes to meet key nutrient requirements will result in excessive calorie intakes.

Dunstan Grass Balancer provides a balance of protein, amino acids and energy of the same high specification as Dunstan Yearling Mix, but with elevated trace minerals and vitamin levels to compensate for reduced daily feed intake.

Selenium Yeast, the organic form of Selenium for optimum assimilation of this important trace mineral is included in Dunstan Grass Balancer. Natural Vitamin E is also included, providing a more potent and bioavailable form of Vitamin E.

Equine Safe

Dunstan Horsefeeds are produced in Equine-Safe manufacturing plants, ensuring a product of premium quality, safety and performance.

Professionally formulated for New Zealand Horses performing under New Zealand conditions
Barley, Oats, Extruded Maize, Extruded Wheat by-products, Soya Bean Meal, Fibre Pellet, Molasses, Salt, Vegetable Oil, Amino Acids, Di-Calcium Phosphate, Limestone, Minerals and Vitamins, Organic Selenium.

Typical Analysis (dry matter basis)

| | |
| --- | --- |
| Crude Protein | 15.5% |
| Fibre | 6.5% |
| Fat | 8.5% |
| Salt | 1.5% |
| DE Energy | 14.5 MJ/KG |

Nutrient Composition – typical analysis per kilo of Dunstan Grass Balancer (as fed)

| | |
| --- | --- |
| Crude Protein | 140g |
| Lysine | 9g |
| Calcium | 14.0g |
| Phosphorus | 6.0g |
| Sodium | 4.0g |
| Chloride | 8.0g |
| Potassium | 10.0g |
| Magnesium | 2.0g |
| Iron | 240mg |
| Zinc (Organic) | 240mg |
| Manganese | 110mg |
| Copper (Organic) | 90mg |
| Cobalt | 1mg |
| Iodine | 2.0mg |
| Selenium (Organic) | .8mg |
| Vitamin A | 20,000i.u |
| Vitamin D | 2,000i.u |
| Vitamin E | 250mg |
| Vitamin K | 4.0mg |
| Thiamine B1 | 12.0mg |
| Riboflavin B2 | 12.0mg |
| Pyridoxine B6 | 10.0mg |
| Vitamin B12 | 100ug |
| Niacin | 40mg |
| Pantothenate | 20mg |
| Biotin | 200ug |
| Folic Acid | 3mg |
| Choline | 300mg |

Heat stable Vitamins added at the time of manufacture

Dunstan Grass Balancer is a semi concentrate and is formulated to provide for the daily mineral requirements of the growing Weanling and Yearling from a reduced level of concentrated feed.

Amounts per horse per day when offered as the full feed:

The recommended feeding rates are based on a 500kg horse and are guidelines only.

| | |
| --- | --- |
| Weanlings | 1kg -1.5kg |
| Yearlings | 1.5kg- 2.5kg |

The recommended feeding rates for Dunstan Grass Balancer are based on a 500kg mature weight horse and are guidelines only.
 
If horses require a higher intake of supplementary feed to maintain desired body condition and growth rates use Dunstan Weanling or Dunstan Yearling.
 
Ensure adequate fibre intakes by providing 1 % - 1 .5% per day of the horse's body weight as chaff, hay, Dunstan Betabeet/Sugarbeet or pasture (on a Dry Matter basis).
 
It is advisable to split the daily hard-feed into at least two feeds, preferable 3-4, but feed no more than 2.0 kg of Dunstan Grass Balancer per meal.

General Notes

Always ensure the Horse has access to clean drinking water.

High Copper levels in Dunstan Grass Balancer make it unsuitable for feeding to sheep.

Dunstan Horsefeeds are best used within four months from the time of purchase.
This ensures the vitamins included in Dunstan Horsefeeds remains efficacious to ensure optimum equine health.
However, as is the case with human foods, "fresh is best". So always aim to feed Dunstan products as fresh as you are able.

A Hint on Storage of Dunstan Horsefeeds:
When storing Dunstan Horsefeeds, it is important that it is kept in a clean, dry, cool and rodent-proof area to avoid potential moulds and/or contaminants.