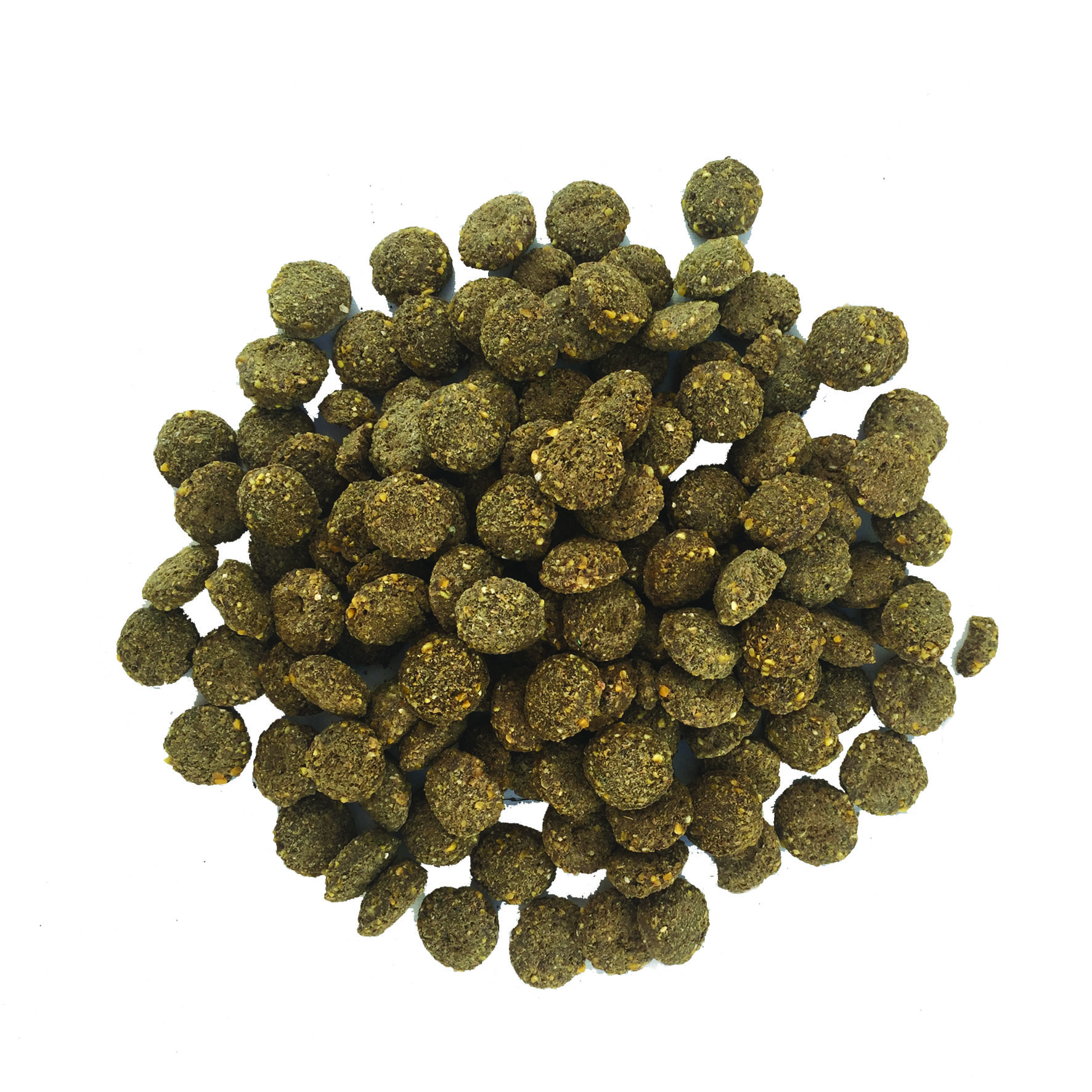 A mineralised nugget supplement for Broodmares at pasture
A highly mineralised concentrate
Low intake for 'good doers'
Organic minerals
Natural vitamin E
Lysine
Find a Stockist
Dunstan Pasture Plus is an extruded mineralised nugget, formulated to meet the mineral needs of the pregnant Broodmare whilst at pasture.

It is important that during the last three months of foetal development, that the Broodmare receives sufficient intake of the important trace minerals, Copper, Zinc, Manganese and Selenium, to ensure correct skeletal development and joint soundness in the developing foal.

Pasture is usually sufficient to meet the nutritional needs for protein and energy at this time, and the need for supplementary feed is often not required to meet these requirements.

However, it is unlikely that pasture intake alone will meet the elevated requirement for trace minerals, and therefore supplementation either as a balanced horse feed or a specific mineralised feed is recommended.

Dunstan Pasture Plus is a cooked cereal nugget that contains within its formulation the Broodmare's requirements for the essential trace elements, Magnesium, Calcium, Phosphorus and Salt. The growth amino acid, Lysine, is provided to boost pasture quality.

The provision of Copper, Zinc and Selenium in the more available forms as Organic Copper, Organic Zinc and Selenium Yeast, enhances the availability of these essential minerals, at a time when the Broodmares digestive capacity is often compromised.

Dunstan Pasture Plus is not a complete feed, but a mineralised feed concentrate to be fed in conjunction with pasture.

Equine Safe

Dunstan Horsefeeds are produced in Equine-Safe manufacturing plants, ensuring a product of premium quality, safety and performance.

Professionally formulated for New Zealand Horses performing under New Zealand conditions
Maize, Bran and Pollard, Linseed, Vegetable Oil, Salt, Limestone, Magnesium Oxide, Dicalcium Phosphate, Mineral and Vitamin Premix, Lysine.

Typical Analysis (dry matter basis)

| | |
| --- | --- |
| Crude Protein | 9.0% |
| Fibre | 3.0% |
| Fat | 7.0% |
| Salt | 4.0% |

Nutritional Composition - per 250g as fed of Dunstan Pasture Plus

| | |
| --- | --- |
| Calcium | 2.0% |
| Phosphorus | 0.65% |
| Magnesium | 0.8% |
| Copper | 200mg |
| Vitamin A | 40,000 IU |
| Vitamin D | 3,000 IU |
| Vitamin E | 500 IU |
| Zinc | 400mg |
| Manganese | 100mg |
| Iron | 100mg |
| Cobalt | 0.6mg |
| Iodine | 2mg |
| Selenium | 2.5mg |
| Chromium | 2.5mg |
| Lysine | 2.5grams |
| Methionine | 0.5grams |
| Agrimos | 4.0grams |

Dunstan Pasture Plus has been formulated to meet the Broodmare's requirement for trace minerals at a daily feeding rate of 250 grams.

The recommended feeding rates for Dunstan Pasture Plus are based on a 500kg horses and are guidelines only.
 
Dunstan Pasture Plus should not be fed in conjunction with any other premixed or mineralised horse feed.
 
Ensure adequate fibre intakes by providing 1 % - 1 .5% per day of the horse's body weight as chaff, hay, Dunstan Betabeet/Sugarbeet or pasture (on a Dry Matter basis).
 
If pasture quality or quantity deteriorates and mares need higher intakes of supplementary feed to maintain body condition, move to Dunstan Broodmare or Dunstan Breed & Grow.

General Notes

Always ensure the Horse has access to clean drinking water.

High Copper levels in Dunstan Pasture Plus make it unsuitable for feeding to sheep.

Dunstan Horsefeeds are best used within four months from the time of purchase.
This ensures the vitamins included in Dunstan Horsefeeds remains efficacious to ensure optimum equine health.
However, as is the case with human foods, "fresh is best". So always aim to feed Dunstan products as fresh as you are able.

A Hint on Storage of Dunstan Horsefeeds:
When storing Dunstan Horsefeeds, it is important that it is kept in a clean, dry, cool and rodent-proof area to avoid potential moulds and/or contaminants.