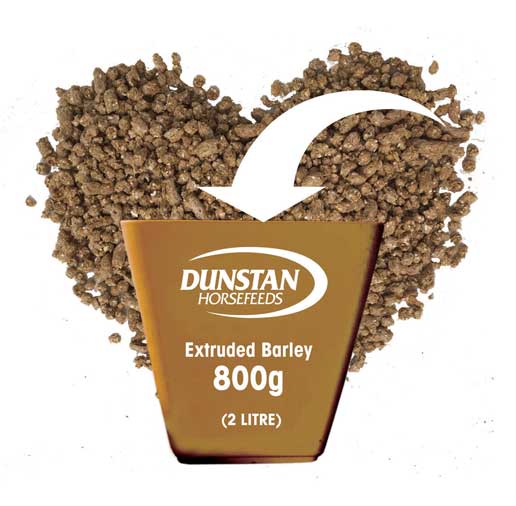 Highly palatable, highly digestible conditioning supplement
Extruded to maximise starch digestion
Calorie dense for weight gain
Highly palatable
No added vitamins and minerals
Added vegetable oil
Find a Stockist
Dunstan Extruded Barley provides horse owners with a very safe way to feed this versatile grain to their horses for energy for both performance and conditioning.

Barley that has not undergone a form of heat processing has limited digestibility for the horse and therefore increases the risk of digestive upsets associated with fermentation of undigested starch in the hindgut

Dunstan Extruded Barley ensures improved starch digestion allowing better feed utilisation for weight gain and performance.

Dunstan Extruded Barley is a great conditioning feed and can be added into the existing ration to increase calorie density without concerns of further mineral supplementation in an already balanced ration.

Dunstan Extruded Barley, when fed in conjunction with a balanced diet for protein, fibre, minerals and vitamins, provides a highly available energy source for either work output or where an extra condition is required.

The addition of Vegetable Oil further boosts calorie density and enhances skin and coat quality.

Equine Safe

Dunstan Horsefeeds are produced in Equine-Safe manufacturing plants, ensuring a product of premium quality, safety and performance.

Professionally formulated for New Zealand Horses performing under New Zealand conditions
Barley, Vegetable Oil

Typical Analysis (dry matter basis)

| | |
| --- | --- |
| Crude Protein | 10.5 % |
| Fat | 6.0 % |
| Fibre | 6.0 % |
| Salt | 0.1 % |
| Energy DE | 15.5 MJ/Kg |

The recommended feeding rates are based on a 500kg horse and are guidelines only

| | |
| --- | --- |
| For Performance and Conditioning | 0.5kg – 4kg per day |

The recommended feeding rates for Dunstan Extruded Barley are based on a 500kg horse and are guidelines only. Daily feed amounts will vary depending on pasture availability and body condition. Horses are very much individuals with different metabolic efficiencies, some require a little more, others a little less, for the same level of activity.
 
Ensure adequate fibre intakes by providing 1 % - 1 .5% per day of the horse's body weight as chaff, hay, Dunstan Betabeet/Sugarbeet or pasture (on a Dry Matter basis).
 
It is advisable to split the daily hard-feed into at least two feeds, preferably 3-4, however, feed no more than 1.5kg of Dunstan Extruded Barley per feed.
 
Always introduce a new feed gradually over a period of 7 – 10 days, working up to the desired feed intake taking into consideration body condition and work level.

General Notes

Always ensure the horse has access to clean drinking water.

Dunstan Horsefeeds are best used within four months from the time of purchase.
This ensures the vitamins included in Dunstan Horsefeeds remains efficacious to ensure optimum equine health.
However, as is the case with human foods, "fresh is best". So always aim to feed Dunstan products as fresh as you are able.

A Hint on Storage of Dunstan Horsefeeds:
When storing Dunstan Horsefeeds, it is important that it is kept in a clean, dry, cool and rodent-proof area to avoid potential moulds and/or contaminants.