Dunstan Horsefeeds Ruakaka Trainers Series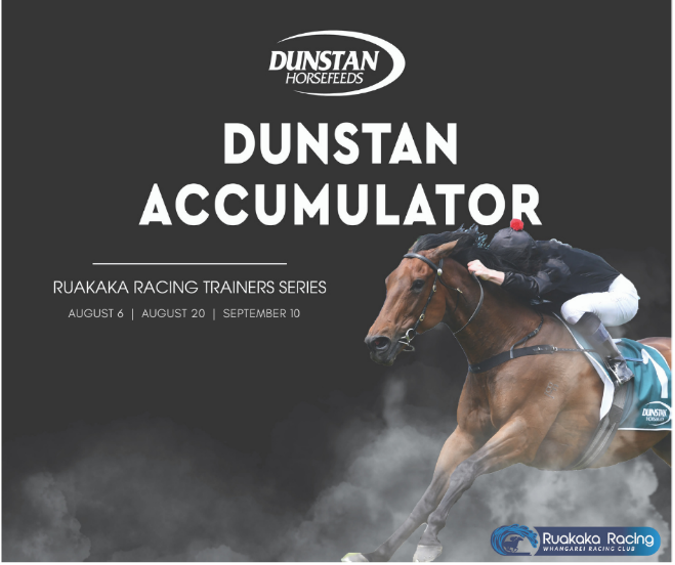 TRAINER WINS $5,000 AND 1 TONNE OF DUNSTAN HORSE FEED

DUNSTAN ACCUMULATOR TRAINER'S BONUS AT RUAKAKA RACES

Race your stayers on the sand based Ruakaka track and compete for this generous bonus provided by Dunstan Horse Feeds and the NZTR Innovation Fund.
Each trainer accumulates points for each runner in these races at Ruakaka:
• Sat Aug 6 - $40,000 Alibaba's Flying Carpets Kerikeri Cup - Open 2100m
• Sat Aug 6 - $30,000 Rating 65 2100m

• Sat Aug 20 - $40,000 Ruakaka Cup – Open 2200m
• Sat Sep 10 - $40,000 Harcourts Tai Tokerau Cup – Open 2200m
• Sat Sept 10 - $30,000 Dunstan Accumulator – Rating 65 2200m

The trainer with the most points earned across these series of races will be declared the winner of the Dunstan Accumulator Trainer's Bonus.

Points allocated to trainer based on the finishing position of each runner with points allocated as follows: 1st – 9pts; 2nd – 7pts; 3rd – 5pts; 4th – 2pts; with every other runner 1pt.

The Dunstan Accumulator Trainer's Bonus is a great incentive for Trainers to travel north to Ruakaka with their stayers at the start of the new 2022/23 racing season. There are $180,000 of prize money across the five-race series to entice owners of both the open class and progressive stayers.


CONDITIONS:
If a race is abandoned on the day 1 pt is allocated to each runner. For dead heats the pts will be added together and halved for the two positions (eg 1st and 2nd pts are added so that the two dead heated runners receive 8pts each). In the case of a dead heat of points across the series of races the prize will be shared equally.