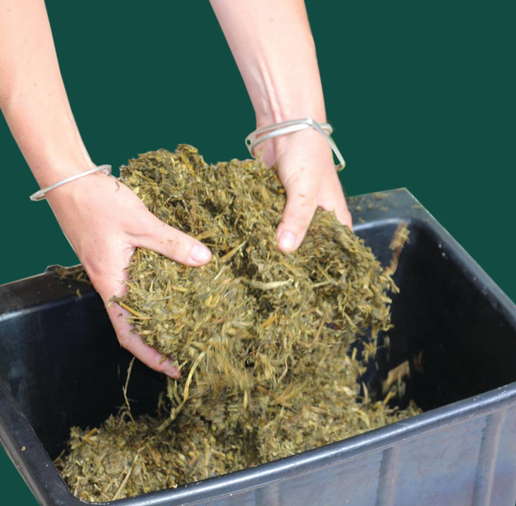 EQUIFIBRE® Lucerne Pro is a highly nutritious forage fibre made of quality Lucerne.
Easy feed portions

Quality fibre source

Highly digestible

Contains natural biotin

Quality protein

Natural acid buffer
Find a Stockist
The Lucerne is cut and pressed into convenient block sized portions for ease of handling, and vacuum sealed to enhance nutritional quality and freshness.

We recommend adding EQUIFIBRE® Lucerne Pro to your regular hard feed, as it slows consumption and encourages chewing which increases saliva production and therefore can assist in maintaining optimum gastric health. Furthermore, being completely dust free with a high moisture content, it helps to keep horses hydrated and enhances feed palatability.

Feeding EQUIFIBRE® Lucerne Pro will assist in maintaining weight and will also provide an ideal balance to the diet.

EQUIFIBRE® Lucerne Pro also has a low content of starch and sugar compared to hay or grass products and contains natural Biotin, which is a popular nutritional supplement for horses to promote and maintain the growth of healthy hooves.

The addition of Lucerne to the diet is well researched for its ability to maintain good gastric pH levels and therefore reduce the likelihood of adverse gastric conditions.

The inclusion of Lucerne Pro to the diet will assist in maintaining healthy gastric pH levels.



Equine Safe

Equifibre® Lucerne Pro is produced in Equine safe manufacturing plants ensuring a product of premium quality, safety and performance.

Professionally formulated for New Zealand Horses performing under New Zealand conditions
Lucerne (Alfalfa), Molasses free.

Typical Nutritional Analysis (dry matter basis)

| | |
| --- | --- |
| Crude Protein | 21% |
| Digestible Energy | 10-10.2mj/Kg |
| Starch | <0.5% |
| Crude Fat | 2.5-3% |
| Crude Fibre | 29% |
| Dry Matter Content | 42-45% |
| Calcium | 12-13 g/Kg |
| Phosphorus | 2-2.5 g/Kg |
| Vitamin E | 70 Mg/Kg |

EQUIFIBRE® Lucerne Pro is the ideal high fibre forage source to complement your regular hard feed. It should be introduced slowly and fed as part of a balanced diet.

The feeding amount might be influenced by factors such as exercise level, the horse's condition, or breed and age.

The following feeding rates are guidelines only.

| | |
| --- | --- |
| Pony | 1-2 Kg/Feed |
| Horses In Light Work / Spelling / Maintenance | 2-5 Kg/Feed |
| High Performance | 4-6 Kg/Feed |
| Weanling/Yearlings | 2-3 Kg/Feed |

Coming Soon!